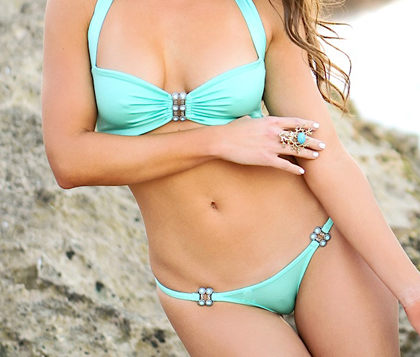 A low rise bikini is the perfect cut for showing off your sexy waist and hips. The style can vary a little by cut but it generally sits right well below your natural waist, instead riding on the widest part of your hips. Some may incorrectly think this look wouldn't be very flattering but it actually helps to lengthen the appearance of your torso and minimize your waist. Bikini bottoms that are worn higher on the waist have a way of cutting the body in half. A low rise bikini bottom draws eyes downward which allows your natural curves to work their magic without interference from your bikini bottom.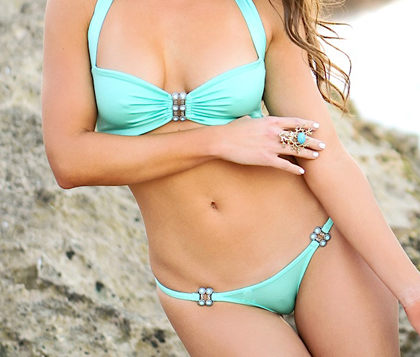 A low rise bikini bottom does not always mean less coverage, either. As you can see in the gorgeous aqua blue bikini pictured here, the front is full coverage but sits low on the hips which really shows off this model's taught abs. The backside of this bikini bottom happens to be a sexy whaletail-style thong, but there are plenty of other cuts out there, too. Low rise Brazilian bottoms are incredibly flattering. Not only do that have the same front-side features described here, but the narrow backside holds its own appeal. For those of you who prefer full coverage front and back, there are also some great low rise full-cut bikini bottoms, too. Don't let the fact that the waist sits low scare you away from this style. There is a low rise bikini out there for nearly everyone!
This style is versatile enough that it can be worn with any style bikini top which means creating a custom look to suit your body type should be a cinch. By carefully selecting the top and bottom separately, you can have a swimwear style that works to support you where you need it and show it off where you want it. For more coverage and support up top, look for styles which have straps that tie. This allows you to adjust the fit, and you can also go up or down a size depending on your body. A proper fit will go a long way in helping you walk around with confidence in your new low rise bikini.