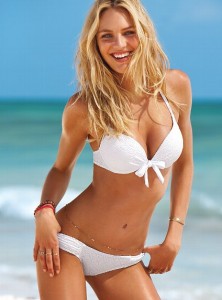 Lately, we've received many emails with the same question: How do I select the perfect bikini?
So we decided to create a post to show you some tips, in order to pick the perfect bikini.
We are all different, and that is perhaps the most beautiful aspect of human nature! We are all unique and unrepeatable. So when choosing a bikini, we must bear in mind, our figure and body shape.
Below you will see some different figures of the female body, with which you can identify:
HOURGLASS
The hourglass type is typical of women with curves but proportionate. It is considered the perfect body type, so that all the bikinis, trikinis, tankinis and swimsuits will be a suitable fit.
Victoria's Secret                       
TRIANGLE
Narrow shoulders and wide hips. The aim is to cover the hips and accentuate our shoulders. If we opt for a bikini, the bottom should be somewhere in the middle, neither too high nor too low. Ideally having oblique form, ie, upward on both sides of the hip. The top must have halter straps or strapless, if you don't have much bust. In the swimsuits, look the same proportion of neckline and bottom.
Victoria's Secret
INVERTED TRIANGLE
This is the body that has the broad shoulders and hips narrow. We will do unlike the previous case: enhancing the hips and hiding the shoulders. The perfect bikinis for these women will be those of a triangle on the chest. The bottoms will be straight lines in the hip, leaving great volumes through the use of draping, ruffles, bows, etc. Wear bikini bottoms that have lots of color and print and also sport accents at the hips such as ties, belts and sashes. The new, moderate cut bottom was made for you. Also, wide shoulder straps and square necklines can make you look fabulous. Avoid the "V" silhouette by staying away from those plunging neck lines or teeny, tiny bikini bottoms.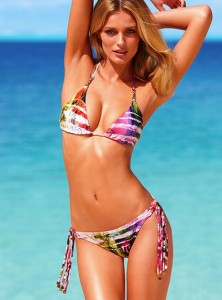 Victoria's Secret
BOX
The waist is not very pronounced and hips are rather straight or very slightly rounded. We will try to focus just as much on their shoulders as the hips, so that our waist will look narrower. For this we will follow the guidelines given in the above: bikinis or halter if you are bustier. Bikinis are good for you. Add some illusion at the hips with rings, ruffles and bows. If you're small on top, go for a strapless bandeau. Go for a dark, solid bottom and a wildly printed or embellished top. Avoid solid-colored or horizontal striped one-pieces.
 Victoria's Secret
H&M
ROUND
Bodies are more full figured and rounded. The combination of top and pants, called a tankini can be a good option if you have a little tummy and would like to conceal it. The one piece suits will also be your allies. Avoid too much fabric. Modesty is certainly OK, but too much coverage is not necessarily a better option. Also, stay away from white, as well as bright, neon fabrics and those nappy textiles.