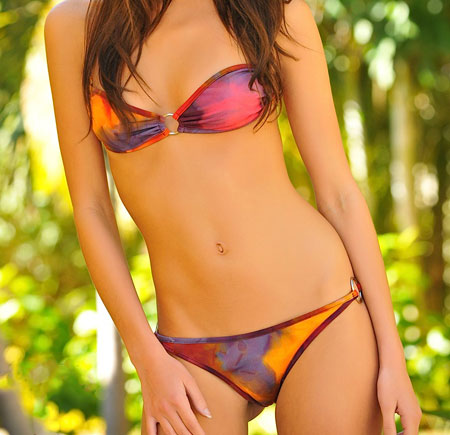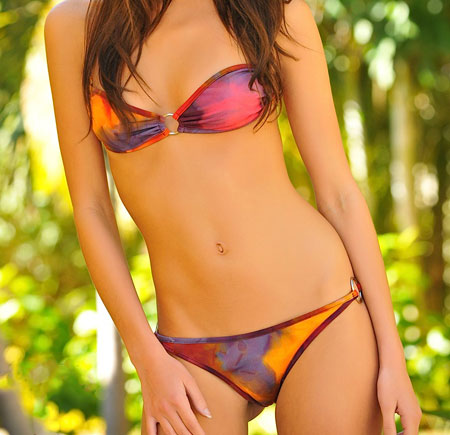 Cute swimwear is definitely a matter of opinion, and thankfully with so many style options out there today it is easy to find one to suit your own tastes. Everyone prefers something a little different in their swimwear, but how a swimsuit makes you feel should be your top priority. If a bikini fits well and flatters your body, it will make you feel good in it.
When shopping for cute swimwear, be sure to live it up a little when it comes to picking out the right colors. The smaller the swimsuit, the brighter the color it will be able to handle. Bikinis are great for printed material, or bright, vibrant color schemes for this reason. If you know you want to wear something fun such as the tie dyed bikini seen here, go as small as you are comfortable with the cut. That way, you can be sure the print will not seem overwhelming or steal attention from where it should be. A print such as this one is perfect for transitioning from summer to fall, too. The blend of warm colors with cool colors provides elements of each season.
If you have a normally feminine style, try adding delicate elements such as ruffles or crystals to your swimsuit. These simple touches can make your cute swimwear feel as if it was made just for you. A bikini top with a gathered center will help enhance cleavage, while a bikini bottom with puckered stitching in the back will nicely contour your backside. Thoughtful details such as these can make all the difference in how you look and feel in your bikini, so don't settle for anything less than the best. If you buy a bikini that sags or doesn't offer enough support, you will not feel confident. Take the time to find the best fit and the best cut for you in your favorite color or print, and it will pay off.