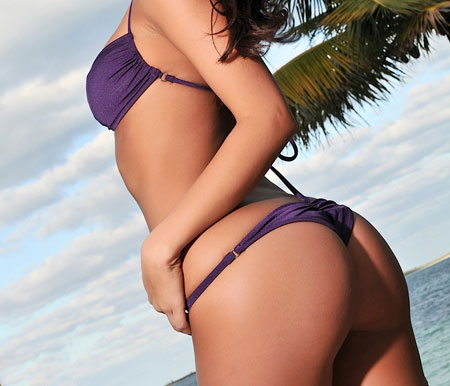 Brazilian thongs have a uniquely shaped backside that offers a compromise between a Brazilian and a thong, but it is, by no means, a compromise on style. It is a great stop on the coverage scale for those of you who have been thinking about trying a thong, but you were afraid to make the leap into baring your bottom for all to see. This style gives you the feeling of having a little coverage in the back which helps with first-time nerves. Even if you are a seasoned thong wearer, a Brazilian thong has a special look and feel to it that is bound to make you fall in love with it.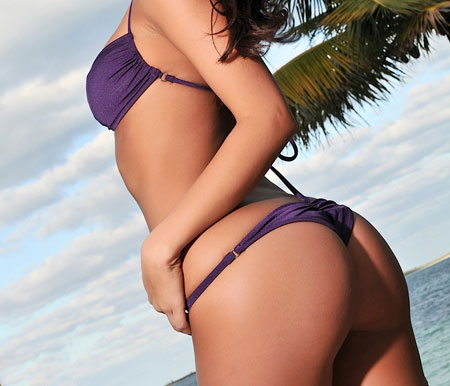 Brazilian thongs are cut like a classic Brazilian bottom, only they quickly narrow into a thong about midway down the back. The sides are thin and the front is low-rise, just like other thongs. In the beautiful purple bikini seen here, the bottom has puckered stitching which enhances the appearance of your backside by following the contour of your cheeks. A lot of bikini bottoms have straight fabric across the back, and those styles are sexy in their own rights. However, puckered stitching really makes the back of a bikini stand out every bit as much as the front, which usually gets most of the attention.
Since Brazilian thongs can vary a bit by designer, make sure you find one that looks the best on your particular body. Even just small variations in the cut, fabric, design or details can have a big impact on how a swimsuit fits. For example, embellishments such as crystal accents can cause the fabric to lie differently against your skin, or the width of the side straps can sit differently based on the shape of your hips. Buying any bikini is very personal, but with a thong that becomes even truer.