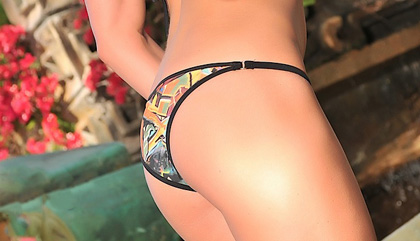 A Brazilian cut bikini is a sexy compromise between a revealing thong and a full-cut bottom.  This great style provides a moderate amount of coverage in the center of the backside with high-cut narrow sides that are perfect for tanning.  The front is generally low-rise with full to moderate coverage depending on the designer. For women who want to try a slightly different style without exposing too much, this is an excellent starting point. I highly recommend teenyb.com, as they have one of the largest selections of brazilian styles that I've ever seen.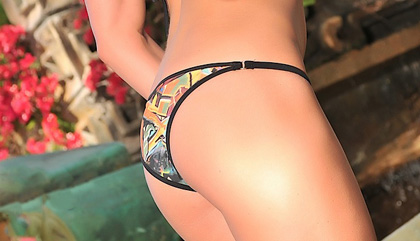 The typical Brazilian cut bikini has been around for decades. What originated on the beaches of its South American namesake quickly became a staple on beaches worldwide, too. As each bikini season passes, the Brazilian cut never goes out of style. It comes back year after year. That makes this bikini bottom a perfect cut to stock up on. Buying multiple bottom pieces in different colors will give you more choices when you are ready for your next summer outing.
The flirty Brazilian cut can handle loud prints and colors, so don't be afraid to step outside of your usual comfort zone when picking out your new swimsuit. Have fun with a printed bottom and solid top, or vice versa. Changing things up a bit will give you an extra boost the first time you hit the beach in your fun, new Brazilian bikini.
A Brazilian cut bikini bottom can be worn with any style top which makes this a particularly versatile cut. Triangle Cut, Sweetheart, Butterfly or Bandeau; each of these styles will create its own, unique combination with a Brazilian bottom. For an even larger bikini selection, pick up one of each. Having a few different choices for each piece will not only mean you can dress according to mood, but it will also make the pieces last longer by cutting down on wear and tear.
Proper care and storage also play an important role in getting the most life from a bikini. Taking excellent care of all of your Brazilian cut bikinis will ensure 2 to 3 seasons of fun in the sun!